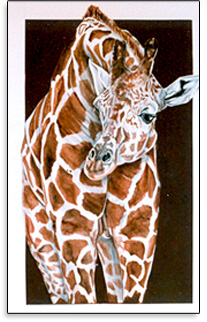 EDUCATION:
Master of Arts (Painting) Northern Illinois University
Bachelor of Fine Arts (Painting) Northern Illinois Univ.
GALLERY AFFILIATIONS:
Abel Contemporary Gallery, Paoli, WI 
317 Studio & Gallery, Rockford, IL
LISTED IN:
Who's Who in American Art
Who's Who in America
Wisconsin Regional Primate Research Center Archive

SELECTED FOR:
American Embassy, Rangoon, Burma
American Embassy, Niamey, Niger, Africa
COLLECTIONS:
Private collections in the United States, Sweden, Luxembourg, Germany, France and Great Britain
Village Green Lodge, Ephraim, WI
Badger Veterinary Clinic, WI
Sems & Specials, Rockford, IL
Swedish American Hospital, Rockford, IL
Winnebago County Title Company, Rockford, IL
Women's Club of Rockford
Crusader Clinic, Rockford, IL
Womanspace, Rockford, IL
Kishwaukee College, Malta, IL
Schlueter, Ecklund, Rockford, IL
Solar Flame, Genoa, IL
John Hancock Insurance, Rockford, IL
Christ the Carpenter Church, Rockford, IL
Beverly Bank, Chicago, IL
Owensboro Museum, Owensboro, KY
Grace United Methodist Church, Rockford, IL
PROFESSIONAL AFFILIATIONS:
Silk Painters International
Transparent Watercolor Society of America
Women Artists of the West
Womanspace
Rockford Art Guild
Rockford Area Arts Council
National Watercolor Society
WRITTEN PUBLICATIONS/ARTWORK REPRODUCED:
"The Fine Art of Painting on Silk" book by Jan Janas and Diane Tuckman, (in publication)
2007 "Beadwork"magazine
2006 Artist of the Month, Silk Painters International, July
2006 "Packing and Shipping," SPIN Newsletter, April and May
2005 "Art Rockford," compiled by Jeanne Coe and John Hurley
1997 "The Best of Silk Painting" book by Diane Tuckman and Jan Janas, North Light Books
2006, 1997, 1995 "The Silkworm"
1994 "Now What? This Art Business" book co-authored w/Julie Ekstam, Jester Publications
1994 "Midwest Watercolor Society"
1993 "Alternate Currents"
1992 "Equine Images"
1992 "Art Focus"
1992 "Art Calendar"
1992 "Artist's Magazine"
SELECTED JURIED EXHIBITS:
2017 WAOW Annual Exhibit, Annapolis, MD
2017 "Season's Splendor," WAOW online exhibit
2017 "Farms & Barns," The Next Picture Show, Dixon, IL
2017 WAOW Annual Exhibit, Fredricksburg, TX
2017 Nicholas Conservatory, Art Guild of Rockford, Rockford, IL
2017 "Spring Comes Hurrying Over the Hill," WAOW online exhibit
2015 "RAG@RAM" Rockford Art Museum Rockford, IL
2014 "Women's Works" Northwest Cultural Center, Woodstock, IL
2013 Artist's Magazine 30th Annual Art Competition, Finalist
2013 "Making Our Mark," Peninsula School of Art, Fish Creek, WI
2013 Skip Watts Memorial Watercolor Exhibit, Springfield, IL
2013 National Art Premiere, Elmhurst Art Museum, Elmhurst, IL
2012 "Regional Juried Exhibition IX," Freeport Art Museum, Freeport, IL
2012 "Seasons on the Land," Natural Land Institute, Rockford, IL
2012 Midwest Folk and Fiber Fine Arts Exhibit, Grayslake & Woodstock, IL
2011 "Threads of Creativity," Greenhill Center for the Arts, Whitewater, WI
2011 "Upstart Spring," WomanSpace, Rockford, IL
2011 "Anything Goes," WomanSpace, Rockford, IL
2010 "International Exhibition of Animals in Art," LSU, Baton Rouge, LA
2009 "Farms and Barns," The Next Picture Show, Dixon, IL
2008 "Between Fences,"Byron Historical Museum, Byron, IL
2008, 2009, 2010, 2011, 2013: "Wings, Tails, Hooves & Scales: An Exhibition Celebrating Animals!"
Ohio Veterinary Medical Association, Columbus, OH
2007 "Transformation", Ratner Museum, Bethesda, MD
2007 Bead Expo, California
2006, 2008 Bead International '06, '08
2006, 2000, 1998 Kentucky National Wildlife Exhibit, Henderson, KY
2006 Silk Painters International, Santa Fe, NM
2002 "Revelations - Private Altars," Womanspace, Rockford, IL
2002 "A to Z," Church Street Gallery, Rockford, IL
2002 Masterpieces of Maturity, Lexington, KY
2002 26th Annual Fiber and Textile Exhibit, Whitewater, WI
2001 Regional Juried Exhibit, Freeport Arts Center, Freeport, IL
2001,2002 26th Fiber & Textile Exhibit, UW Whitewater, Whitewater, WI
2002 "Art and Nature," Burpee Museum of Natural History, Rockford, IL
2000 Silk Painters International Juried Exhibit, Fairfax, VA
SELECTED GROUP AND INVITATIONAL EXHIBITS:
2018 "Watercolor Variations," with Sue Abare, Womanspace, Rockford, IL
2017 "Watercolor, Ink & Inspiration," with Jill Rae Martin-Golden, Sinsinawa Mound, WI
2010 Moveable Feast, Rockford, IL
2010 Katie's Cup, Rockford, IL
2009 Byron Historical Museum, Byron, IL
2009 The Next Picture Show, Dixon, IL
2009 "Poetry in Motion 3," Swanberg Gallery, Rockford, IL
2008 "Each One Brings One," Church Street Gallery, Rockford, IL
2008 "Animals," Artisan Gallery, Paoli, WI
2008 "Realism or Not," Womanspace, Rockford, IL
2008 Artspace West. Rockford, IL
2007 "Animals and Other Images," Monroe Arts Center, Monroe, WI
2007 Beloit Fine Arts Incubator, Beloit, WI
2006 "Visual Perceptions - Silk, Paper, Canvas," Alexis Gallery, Washington, DC
2006 "Big, Small, Old, New," Church Street Gallery, Rockford, IL
2006, 2007 Bennie's Cleaners, Rockford, IL
2006 "Sites Unscene," Klehm Arboretum, Rockford, IL
2005 Alfons Gallery, Milwaukee, WI
2005 "Realism or Not Traveling Exhibit,"
Bennie's
Klehm Arboretum
Gambino Gallery
Church St. Gallery
2004 "Realism or Not," Eau Gallie Gallery, Rockton, IL
2005 "Smaller Yet," Womanspace, Rockford, IL
2003 "Animals, Wild and Otherwise," Sinsinawa Mounds Center, Sinsinawa, WI
2003 "PARTners," Womanspace, Rockford, IL
2002 "Realism or Not," Womanspace, Rockford, IL
2001 "Critters," Artisan Gallery, Paoli, WI
2001, 2002, 2004 "Realism or Not," Klehm Arboretum, Rockford, IL
2000-2001 Womanspace Traveling Exhibit:
Womanspace
Crusader Clinic
NIU, Rockford, IL
Klehm Arboretum
UIC Community Gallery
2000 "Realism or Not," UIC Community Gallery, Rockford, IL
2000 "Animal Imagery," UIC Community Gallery, Rockford, IL
2000 Klehm Arboretum, Rockford, IL
2000 Taste, Taste, 317 Market St., Rockford, IL
2000 Church Street Gallery, Rockford, IL
SELECTED ONE WOMAN EXHIBITS:
2011 ArtSpace West, Rockford, IL
2001 North Suburban District Library, Loves Park, IL
1995, 1994 Gallery 451, Rockford, IL
1993 Gallery Ten, Rockford, IL
1992 Prairie Center for the Arts, Schaumburg, IL
1992 North End Gallery, Leonardtown, MD
1991 Gallery Ten, Rockford, IL
1991 Rockford City Hall, Mayor's Office, Rockford, IL
1990 Rockford Area Arts Council, Rockford, IL
1981 Union League Club of Chicago, Third Floor Gallery
RELATED EMPLOYMENT AND PUBLIC SERVICE:
1995-96 Private consulting on the business of art
1990-1994 Gallery Ten, Partner/Publicist/Artist's Liaison
1994 Arts Against Violence w/Rockford Area High School Arts Council
1971-1978 Rock Valley College, Rockford, IL, Continuing Education
Instructor: Painting, Drawing, Color Theory
317 Studio & Gallery, Rockford, IL, Instructor
Womanspace, Rockford, IL, Gallery Committee
GRANTS:
1996 CityArts Action Grant from Rockford Area Arts Council for business of art workshop
1995 CityArts Action Grant from Rockford Area Arts Council for private consulting with individual artists
WORKSHOPS\GUEST SPEAKER:
1995 Milwaukee Institute of Art & Design Workshop: Now What? This Art Business
1995 Milwaukee Art Museum - Wisconsin Painters & Sculptors Workshop: Now What? This Art Business
1980, 1986 Art Guild of Rockford, "Color Theory"
October 8, 1983, Burpee Art Museum: Serigraphy